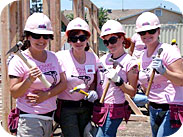 How Women Build helps build more homes
Women Build is a Habitat for Humanity International program that encourages women and girls to have fun and make a difference by building homes and communities. Thousands of houses have been built by women crews around the world – more than 1,000 have taken place since Women Build's official creation in 1998. Each year hundreds more homes are added as affiliates, donors and sponsors discover the impact of women volunteers and their resources.
How to get involved with Women Build
Women Build has a variety of ways for you to be involved, from training to travel—all of it hands-on and designed to help you learn and work. Email Volunteer@habitatmartin.org , or call (772) 223-9940 for more information.
Is it a problem if I don't have any construction skills?
Don't worry! Many women come to Women Build sites with no construction skills at all and still make a great impact. Training will be provided.
How do I help support the cost of Women Build?