"You can make your generosity permanent by making a bequest to further your passion and support the Habitat mission."
                                                          - Bill and Carole Hauke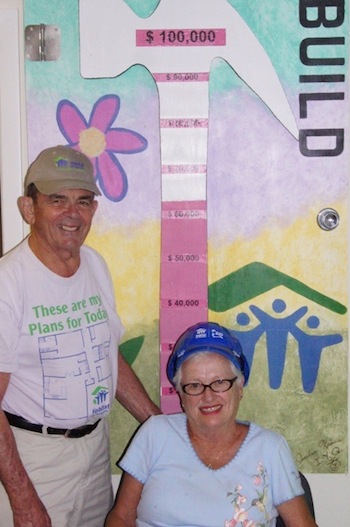 When we think of Bill and Carole Hauke, we envision two people who work hard at making opportunities for others to live the "American Dream," a home to raise their family.
Growing up in Burlington, Vermont, a place where neighbors helped each other, Bill and Carole were bitten by the building bug very early in life. Hauke Building Supply Co. was started by Bill's grandfather in the 1920's and continued by his father at only 16 years of age, then continued by Bill in 1958, and eventually turned over to the fourth generation of Hauke children in 1996.
The philosophy was to provide entry level, affordable housing at a fair price and good value. Translated, that meant that over 1,000 housing units were provided during their 38 years at the helm. While Bill worked on the job site during the day, ran his sales office from his basement at night, Carole was busy baking banana bread and making coffee for prospective homeowners, while raising four children.
Quite by accident, in the early 70's, Carole took over the sales for the company, a task she was more than suited for. She excelled at it, becoming the top sales person for the company and leaving her teaching job to be an active part of the company they were building for their family. Homes averaged 900 to 1100-square feet, a basement and a 1-car garage.  Starting price, including the land, back in the beginning was $3,200. By the mid 60's, the cost had risen to $32,000 and by the time they retired in 1996, multi-family condo units were the way to go in Burlington and the cost had risen to $100,000.  
Bill decided that if he was going to take this building business seriously, perhaps he should join the Association of Home Builders, and currently holds a lifetime position with National Association of Home Builders. Bill and Carole feel that they were blessed with growing up in the "Era of the American Dream," post-war America where owning your own home was the ultimate goal for everyone. Building 1,000 homes in a small town meant that almost everyone owned a Hauke-built home at some point and every policeman, fireman and teacher was able to experience the fulfillment of their dream for homeownership.
Fortunately for Martin County, Bill and Carole decided to retire in our community and share their philanthropy and energy to continue the dream of affordable housing provided by Habitat for Humanity of Martin County. Bill has been an on-site volunteer continuing to share his expertise building affordable homes for the last 13 years; Carole is his strength and support and a great fundraiser, always heralding the impact of making challenge grants to support your charity with enthusiasm, fun and passion.
Carole and Bill, their four children and 11 grandchildren are involved in their charitable decisions. They understand why they support certain causes, why they are passionate about making sure the next generation also benefits through their legacy giving. A holistic approach to giving involves supporting education, arts, health and housing issues – how lucky we are to count them as part of our Habitat family. Hats off to Bill and Carole for their vision and support of the Habitat mission to eliminate substandard housing in Martin County.
Through a simple addition to their estate plan, a gift has been set aside for Habitat for Humanity of Martin County.
Bequests can be made through gifts of cash, securities, real estate, and tangible personal property. One of the easiest ways to make a gift to Habit is by leaving the organization a bequest in your will. There are several ways you can do this. You can (1) give a specific amount of money to the organization; (2) give a specific item of property to the organization; or (3) give a specified percentage of the residue of your estate to the organization (the residue of your estate is that which is left over after all specific gifts have been made, whether charitable or non-charitable).