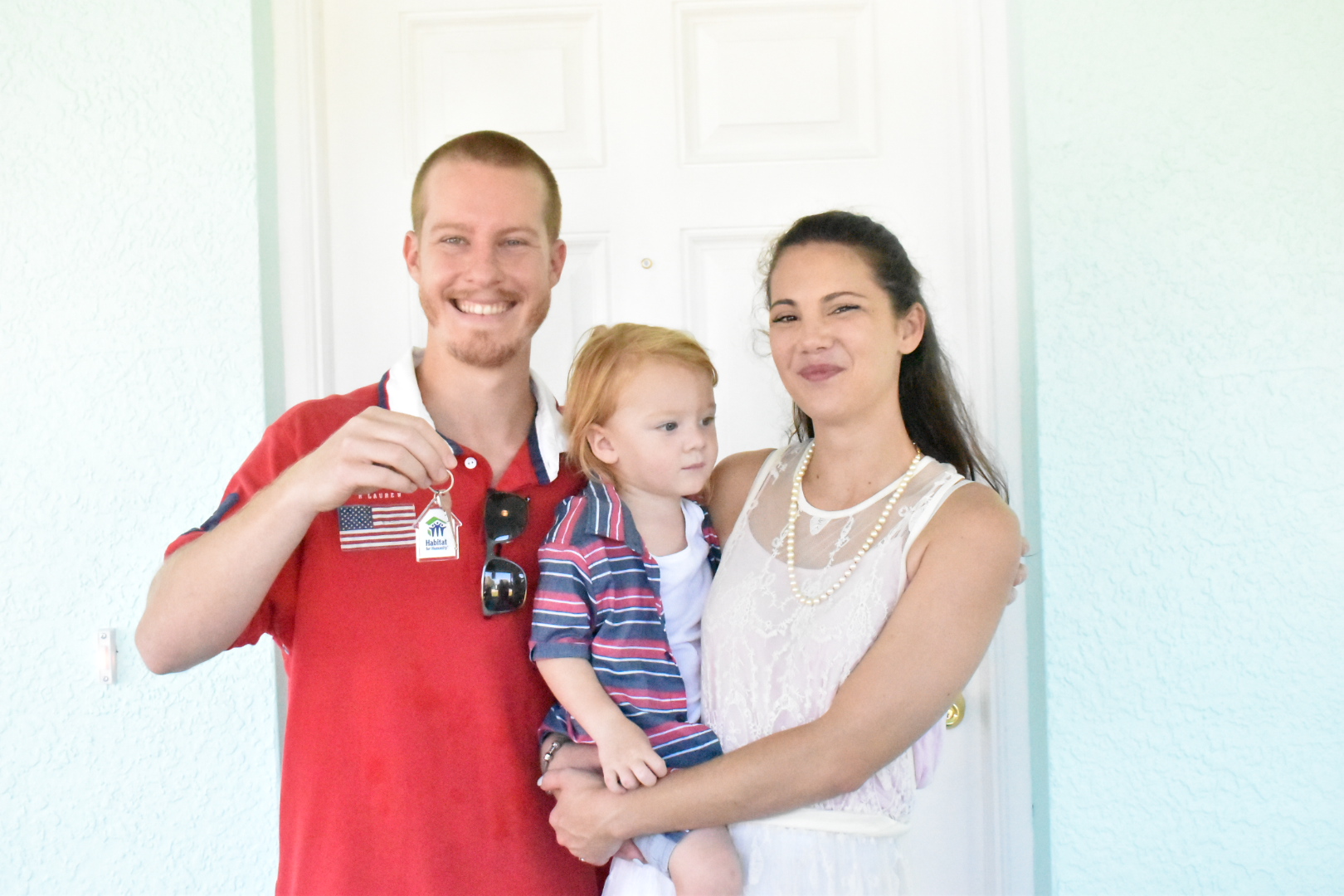 For the past two years, the Krumfolz family has called a dilapidated, modified workshop behind a trailer, "home." With only a curtain to separate the single bedroom from the rest of the living quarters and a single, decade-old window A/C unit, it was what the Krumfolz's could afford. Both native Floridians, Michael and Sissy met as high school sweethearts and reconnected again in college. They married in February 2016 and welcomed their son, William, one year later.
Michael has worked as a Bio-Diesel Technician for Genuine Bio-Fuel in Indiantown for three years. Sissy is working in her dream field of marine biology as a Saltwater Aquarist at Fintastic Aquariums in Jensen Beach for more than five years. Michael and Sissy stagger their work schedules to make sure one of them is always home with 2-year-old William. With an exponentially increasing vocabulary and a love of the outdoors, William keeps his mom and dad on their toes!
When Sissy's mother came across as sign announcing the site of future Habitat for Humanity of Martin County homes, she encouraged Sissy to apply for homeownership.
"Upon initially applying, I never thought we would get approved. Like most things in our life, it seemed too good to be true," Sissy said. "I never thought in a million years that such good fortune as getting accepted would come our way but I'm proud to say that we have been so blessed."  
As strong believers in hard work and not accepting handouts, Michael and Sissy are greatly appreciative of the hand-up they are receiving.
"We love working hard, getting physical and getting our hands dirty, being part of the community, and making a real       difference in the lives of those around us," Michael said.
The Krumfolz's are hard at work on their required 300 hours of sweat equity and attending classes before purchasing their home in Stuart.
"Becoming a homeowner will change our story for the better. This will improve daily life inconceivably in the smallest ways. We will not be infested with mold and giant mosquitos, my son can have his own room, and we will not be fighting the heat with a 10-year-old window air conditioning unit," Sissy said about the opportunity to own their own home. "It will allow us to divert our money to important things such as health care, insurance, etc. that we cannot afford at the time. It is a guarantee that we can stay in the place that our hearts love for the rest of our lives. We look forward to being lifelong partners of Habitat for Humanity. We are so grateful for the sponsors, donors, and volunteers that made this all possible."