Here's what students are saying about their experience with Habitat for Humanity of Martin County's Collegiate Challenge program:
"I have had the most amazing week here in Martin County. This is my first collegiate challenge, and I understand that I've been absolutely spoiled. I am so appreciative for the hotel in which we stayed and all of the wonderful food. I love that the community opened up to us, I felt so welcome and appreciated. I don't think I would change anything. Thank you for having us here!"
Stephanie Harris, Brown University
"I would just like to say thank you so much for the opportunity to learn about building houses and friendships simultaneously. The people involved in this program have been so amazing in hosting us and working with them has been a pleasure. This week has definitely reaffirmed my belief in the goodness and generosity of people. Thank you Martin County Habitat!"
Angela Straccia, Brown University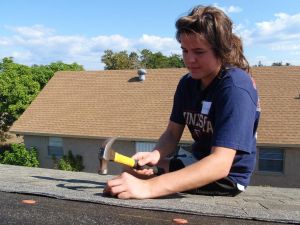 "This week has been a learning time and I feel like I've learned more valuable things here than I've learned at college so far."
Kelsey, University of Minnesota
"I feel as though this experience provided me with many skills and a lot of knowledge.It was really rewarding to meet the families and see people in the community wave and smile as we passed them on the street."

Alice Y., University of Wisconsin-Madison


"Today we finished another side of the roof… just loving this atmosphere and admire Habitat so much…We just love it!"
"We had an exquisite meal at Trinity Methodist Church, can I say Wow! The best meal I have had in a long time."
"This has been one of the greatest experiences I have ever been able to be a part of."


Jennifer A., Western Iowa Tech Community College
"Participating in this volunteer service has helped me learn so much about myself, but most importantly, it has allowed for me to make a difference in someone else's life."
Jamie Lee, University of Minnesota
"Habitat for Humanity is a wonderful organization that allows for people like me to grow spiritually, intellectually and physically by helping to build homes for very deserving people and meeting great people along the way."
Ellie R., University of Wisconsin-Madison
"It has been a wonderful experience working with Neil, Weston and everyone else from Habitat."
Rachel J., University of Minnesota
"Martin County is gorgeous and I'm so happy I chose to participate in Habitat."
Megan M., University of Minnesota