Wednesday, July 16, 2014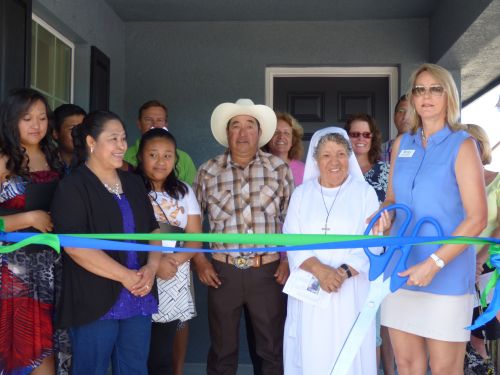 The Castro Family celebrates the dedication of their new home in Carter Park with Habitat volunteers and the Indiantown community. 
It's a record-setting year for Habitat for Humanity of Martin County.
The non-profit organization is reaching new heights by investing more than $1.2 million in home construction throughout Martin County. Since August 2013, Habitat has closed on 12 homes – two rehabilitated homes and 10 new homes – spanning Hobe Sound, Indiantown, Port Salerno and Stuart.
In addition, Habitat has invested in the preservation of 22 homes in Port Salerno by assisting with exterior makeovers. It is one of the first affiliates in the nation to join Habitat for Humanity International's Neighborhood Revitalization Initiative, which focuses on community redevelopment through new, energy-efficient construction; rehabilitation of vacant and foreclosed properties; weatherization to make existing houses more energy efficient and affordable; and house repairs for existing low-income homeowners through "A Brush With Kindness" and critical home repairs.
The local affiliate continues to meet and exceed its goals, despite nearly a decade of decline in homeownership throughout the United States.
According to the State of the Nation's Housing 2014, compiled by the Joint Center for Housing Studies of Harvard University, "The national homeownership rate marked its ninth consecutive year of decline in 2013, affecting most segments of the population. The drop among minorities is particularly troubling, given their growing presence in the housing market. While affordability conditions remain favorable, rising home prices and interest rates—along with continued tight credit—have made homebuying more of a stretch for some households. These shifts could mean that fewer Americans will be able to become homeowners in the future."
Habitat for Humanity of Martin County offers a solution to the nationwide housing crisis by offering a "Hand up instead of a handout."
"Our mission goes above and beyond simply putting a roof over someone's head," Margot Graff, executive director of Habitat for Humanity of Martin County said. "Decent, affordable housing provides stability for families and children, a sense of dignity and pride, and increases educational and job prospects."
Habitat's family selection committee chooses homeowners based on their level of need, their willingness to become partners in the program and their ability to repay the loan. Every affiliate follows a nondiscriminatory policy of family selection – neither race nor religion is a factor in choosing the families who receive Habitat homes. Homeowners must contribute to Habitat's sweat equity requirement of 300 volunteer hours. They purchase their homes with affordable, no-profit loans and their monthly mortgage payments are used to build more Habitat homes.
"Home ownership addresses so much more than the basic need for shelter; it creates success stories. Children of homeowners are 25 percent more likely to graduate high school; 116 percent more likely to graduate from college; and 16 percent more likely to belong to community organizations. Our homeowners become tax-paying citizens of Martin County and continue to invest in our community."
To learn more about Habitat for Humanity of Martin County's home building and community redevelopment initiatives, as well as homeownership and volunteer opportunities, visit HabitatMartin.org or call 772-223-9940.
About Habitat for Humanity of Martin County
Seeking to put God's love into action, Habitat for Humanity of Martin County brings people together to build homes, communities and hope. Since its inception as a not-for-profit organization in 1986, Habitat has built 107 homes in Hobe Sound, Indiantown, Jensen Beach, Port Salerno and Stuart. Learn more at HabitatMartin.org or call 772-223-9940.