Thursday, December 26, 2013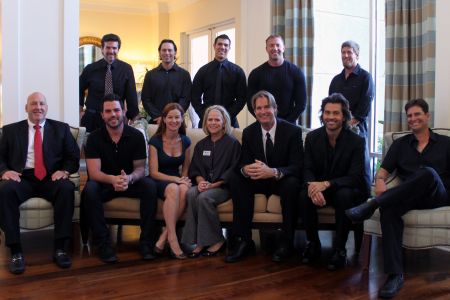 Sitting: Auctioneer Elliot Paul, Taylor Wilson, Event Chairs Nina Ferraro and Debbie Allison, Mike Flaugh, Peter Jones, Cullen de Windt. Standing: Mitch Kloorfain, James Ferrara, Justin Angel, Derek Hartman and Fred Newhart.
Habitat for Humanity of Martin County's most entertaining event of the year is right around the corner and it stars some of the Treasure Coast's most charitable gentlemen.
Prestigious businessmen and esteemed professionals will donate their time and talent at the Mr. Stud Finder Charity Auction to benefit Habitat's 2014 Women Build program. Proceeds will help build a home for the McIntyre Family in the Carter Park community of Indiantown.
The event takes place Thursday, Jan. 30 at 6 p.m. at an elegant new venue, Willoughby Golf Club, 3001 S.E. Doubleton Drive in Stuart. Guests will enjoy cocktails, heavy hors d' oeuvres, a silent auction, and the main event: a live auction at 7 p.m.
"Our studs and the ladies of our Women Build committee continue to out-do themselves each year," said Margot Graff, executive director of Habitat for Humanity of Martin County. "They've orchestrated this one-of-a-kind auction featuring unique items donated by some of the Treasure Coast's finest and most charitable gentlemen."
This fourth annual event features a lively group of gentlemen, nominated by their peers and selected to present a valuable auction item or package for bid, valued from $300 to $5,000. Items include firefighter or sheriff for a day packages, a private cruise for up to 35 guests aboard the Schooner Lily, gourmet chef-prepared meals, private sports lessons, portrait sessions and much more.
Auctioneer Elliot Paul will serve as master of ceremonies, introducing Habitat for Humanity of Martin County's "Stud Finders." The 2014 lineup includes Martin County Firefighters James Ferrara, Derek Hartman and Justin Angel; Peter Jones of StarStruck Academy and Theatre; Chef Adam Fatigate of Chef's Table; Chef Taylor Wilson of The Gafford; Piper's Landing Yacht and Country Club tennis pro, Cullen de Windt; Winston Owen of the Racquet Club of Tesoro; Fred Newhart, captain of the Schooner Lily and Treasure Coast Sailing Adventures; John Meskauskas of The Flying Fish Paddle Sports; photographer Mitch Kloorfain; Michael Flaugh, landscape architect; chiropractor Dr. Leo Hart; mixed martial arts champion Din Thomas, and representatives from the Martin County Sheriff's Department.
Special thanks goes to Elliot Paul and Company, The Stuart News, and NisAir for sponsoring this event.
Tickets are $75 per person and include admission to the auction, cocktail reception and heavy hors d' oeuvres. To purchase tickets, learn more about the event, sponsorships and advertising opportunities,
visit HabitatMartin.org
or call 772-223-9940.
About Women Build
The 2014 Habitat for Humanity of Martin County Women Build home will be built for the McIntyre Family in the new community of Carter Park in Indiantown. The family is already contributing to Habitat's sweat equity requirement of 300 volunteer hours. They will purchase the home with a no-profit loan and their monthly mortgage payments will be used to build more Habitat homes.
Women Build is a Habitat for Humanity International program that encourages women and girls to have fun and make a difference by building homes and communities. Women crews around the world have built thousands of homes since Women Build's official creation in 1998. Each year, more homes are added as affiliates, donors and sponsors discover the impact of women volunteers and their resources.
About Habitat for Humanity of Martin County
Seeking to put God's love into action, Habitat for Humanity of Martin County brings people together to build homes, communities and hope. Since its inception as a not-for-profit organization in 1986, Habitat has built 105 homes in Hobe Sound, Indiantown, Jensen Beach, Port Salerno and Stuart. Learn more at HabitatMartin.org or call 772-223-9940.