Tuesday, February 26, 2013
Instead of vacationing with their friends and families, students from Alaska, Indiana, New York, Virginia, Georgia and Boca Raton, Fla. will spend their spring break helping others in Martin County.
Habitat for Humanity of Martin County will host Collegiate Challenge volunteers arriving on the following dates:
March 3: Florida Atlantic University
March 10: University of Southern Indiana, Fordham University School of Law, and Virginia Tech
March 17: Juneau Douglas High School and Valdosta State University
The students will participate in the construction of a home in the new Carter Park community in Indiantown.
Collegiate Challenge is an alternative school break program that provides students the opportunity to spend their week-long vacation building homes in partnership with Habitat for Humanity affiliates across the United States. 
"What brings me the greatest joy is bringing joy to others," said Nick Dobrinska, a University of Wisconsin-Madison student who volunteered for Habitat's Collegiate Challenge program. "This is the kind of work I enjoy and coming to Florida was an added bonus. I would do it again in a heartbeat."
Habitat for Humanity of Martin County has participated in Collegiate Challenge since 2006, hosting various college groups from across the country. The Habitat Faith Relations Committee takes charge when a group signs up through Habitat International's Web site and sets the students up with housing, and local churches and restaurants are called upon to provide meals for the students.
"It is truly wonderful to see God's work first hand through these students," said Margot Graff, executive director of Habitat for Humanity of Martin County. "We are grateful that they chose to donate their spring break to help build homes for deserving families here in our community. We also appreciate the generosity of the local businesses, churches and volunteers who support the Habitat mission by assisting our Collegiate Challenge groups."
Habitat is in need of donations of water, Gatorade and snacks to keep up the students' strength on the build site. 
To learn more about Collegiate Challenge or to make a donation, call 772-223-9940 or visit HabitatMartin.org.
About Habitat for Humanity of Martin County
Habitat for Humanity of Martin County is a not-for-profit organization that works in partnership with God and people everywhere, from all walks of life, to help eliminate substandard housing by building homes for others, revitalizing neighborhoods, and transforming lives. Since its inception in 1986, Habitat for Humanity of Martin County has built 100 homes in Hobe Sound, Indiantown, Jensen Beach, Port Salerno and Stuart. For more information, call 772-223-9940 or visit HabitatMartin.org.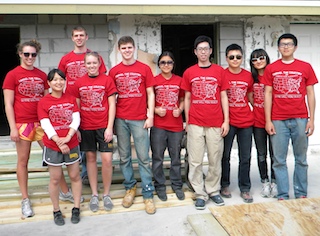 Habitat for Humanity of Martin County is grateful to the
University of Minnesota students who recently spent their winter break volunteering on the construction of two Habitat homes in Stuart.