Monday, February 11, 2013
Habitat for Humanity of Martin County will host the "2013 Power Ride" cycling poker ride on Sunday, March 3 at BikeStreet USA, 8803 S.E. Bridge Road in Hobe Sound.
This family-friendly event benefits Habitat's 2013 Women Build program and consists of a 7 a.m. 100-mile "Power House" ride; a 7:30 a.m. 62-mile "Hammer Down" ride; a 9:30 a.m. 30-mile "Flying Trusses" ride; and an 11 a.m. 10-mile "Building Blocks" family fun ride. All rides start and finish at BikeStreet USA and water, sports drinks and snacks will be available at rest stops along each of the routes, as well as vehicle (SAG) support. Refreshments will be available before and after the rides: Dunkin Donuts will provide coffee and doughnuts; Taste Casual Dining will provide lunch for all registered participants; and smoothies will be provided courtesy of Tropical Smoothie Café.
Advance registration is $40 and the first 150 participants will receive a T-shirt and goodie bag. Two registration events are planned: Friday, March 1, 5 to 8 p.m. at Pro Cycles, 1098 N.W. Federal Highway, Jensen Beach; and Saturday, March 2, 11 a.m. to 2 p.m. at both Martin County BikeStreet USA locations, 8803 S.E. Bridge Road, Hobe Sound and 2044 S. Federal Highway, Stuart.
All participants will receive a poker hand and lunch at the Power Ride. For
online registration
and
maps of the bike routes
, visit HabitatMartin.org. Registration will also be available the morning of the event, beginning at 6:15 a.m., priced at $50 per person.
Prizes will be awarded for the top three poker hands, including two beach cruisers for first place. During the event, up to three additional cards per person can be purchased for $5 each. Cycling jerseys will also be available at the event for purchase for $65.
Special recognition goes to BikeStreet USA, Wilmington Trust, Taste Casual Dining, Tropical Smoothie Café, and Dunkin Donuts.
Prior to the event, Taste Casual Dining (11750 S.E. Dixie Highway, Hobe Sound) will offer a "Power Ride Meal" for $9.95; $2 from each meal will benefit Habitat for Humanity's Women Build program. Choose from a turkey, artichoke and cheese wrap with choice of pasta salad or fruit salad, or a salad with mixed greens and grilled chicken. Offer ends March 3.
For more Power Ride information or to learn more about Women Build, visit HabitatMartin.org or call (772) 223-9940.
About Women Build: The 2013 Habitat for Humanity of Martin County Women Build home will be built for the Jackson family in the new Carter Park community of Indiantown. The family is already contributing to Habitat's sweat equity requirement of 300 volunteer hours and construction of their home is expected to begin soon. They will purchase the home with a no-profit loan and their monthly mortgage payments will be used to build more Habitat homes.
Women Build is a Habitat for Humanity International program that encourages women and girls to have fun and make a difference by building homes and communities. Women crews around the world have built thousands of homes since Women Build's official creation in 1998. Each year, more homes are added as affiliates, donors and sponsors discover the impact of women volunteers and their resources.
About Habitat for Humanity of Martin County:
Habitat for Humanity of Martin County is a not-for-profit organization that works in partnership with God and people everywhere, from all walks of life, to help eliminate substandard housing by building homes for others, revitalizing neighborhoods, and transforming lives. Since its inception in 1986, Habitat for Humanity of Martin County has built 100 homes in Hobe Sound, Indiantown, Jensen Beach, Port Salerno and Stuart. For more information, call (772) 223-9940 or visit HabitatMartin.org.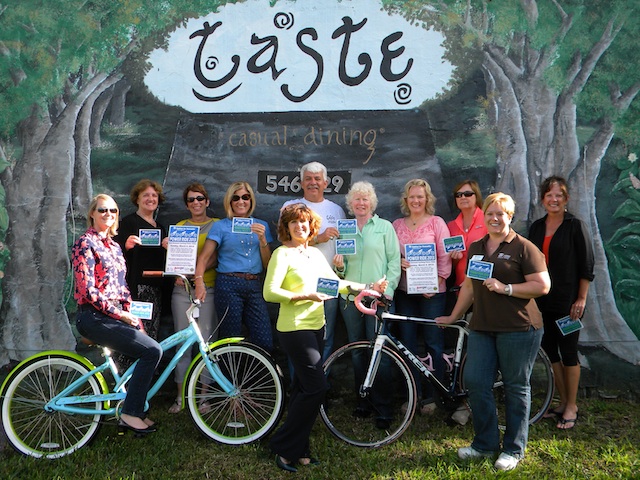 Habitat for Humanity of Martin County's Women Build committee is teaming up with Taste Casual Dining in Hobe Sound to promote the 2013 Power Ride with the Power Ride Meal, offered for $9.95 at Taste now through March 3; $2 from every meal will benefit Women Build. Front: Mary Resnick, Lynn Leserra, and Mary G. Jones of Habitat for Humanity. Back: Lisa Fricke of Wilmington Trust, Terri Dinney, Debbie Thomas, Craig and Karen Kingston of Taste Casual Dining, Hillary Gropp, Dawn Arvin of BikeStreet USA, and Suzanne Vosbikian.