Friday, December 14, 2012
Habitat for Humanity of Martin County will celebrate a tremendous milestone this month: the completion of their 100th home. Through Habitat's efforts, the spirit of community, the pride of home ownership, and the rewarding nature of philanthropy have touched the lives of 100 families throughout Martin County. 
Habitat will dedicate its 100th home to the McClain family at 4 p.m. on Thursday, Dec. 20 at 5288 S.E. Driftwood Ave. in Port Salerno, ensuring they will be settled in their new home before Christmas. The dedication ceremony will be attended by fellow Habitat homeowners, volunteers, staff and community partners.  
"This is a tremendous milestone for our affiliate and our community," said Margot Graff, executive director for Habitat for Humanity of Martin County. "The support of our volunteers, donors, board of directors, local government and sponsors make it possible for us to continue answering prayers and building dreams. We look forward to building 100 more homes – 40 of which are already designated for the Carter Park community in Indiantown." 
The 100th home was constructed for and by the McClain family: Lavern, Kimberly and their five children, twin 14-year-old daughters, Christine and Kristian; son, Jeremiah, 10; daughter, Nasya, 5; and 4-month-old son, Emmanuel.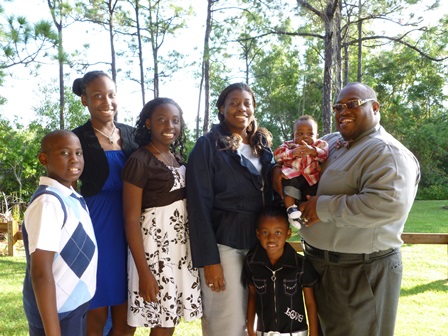 "This is a life changing experience – it's something that we have hoped and dreamed for," said Kimberly McClain, who works for Martin County Parks and Recreation as director of the Banner Lake After School Time (BLAST) program. "Owning a home will bring a sense of security to our family. As renters, we've been forced to move every three to four years. We plan to spend forever in our new home. Never again will we have to pack up our belongings, move the children to a new school, or worry about them meeting new friends. Best of all, our new Habitat home is located in the same neighborhood where we currently rent." 
The family contributed to Habitat's sweat equity requirement of 300 volunteer hours. They are purchasing the home with a no-profit loan and their monthly mortgage payments will be used to build more Habitat homes. 
"'Thank you' isn't enough to describe how grateful we are. I thank God and our Habitat mentors who have worked with us for two years. They've been our financial advisors, benefactors, and a great support team. I really appreciate all their hard work – without them, we wouldn't have made it this far," said McClain. "We're elated and very honored to be the owners of Habitat's 100th home, and we give all the glory to God. There's a time and a season for everything and I think this is our season." 
For more information, call Habitat for Humanity of Martin County at (772) 223-9940 or visit HabitatMartin.org. 
About Habitat for Humanity of Martin County
Habitat for Humanity was first incorporated on the Treasure Coast as the Martin-St. Lucie Habitat for Humanity in 1986. In 1996, due to increasing demand for services, two separate affiliates were created and Habitat for Humanity of Martin County was formed. The organization slowly transitioned from an all-volunteer staff to an executive director with support staff and is supported by an army of volunteers who donate more than 13,000 hours per year. 
Habitat for Humanity of Martin County is a not-for-profit organization that works in partnership with God and people everywhere, from all walks of life, to help eliminate substandard housing by building homes for others, revitalizing neighborhoods, and transforming lives. Since its inception in 1986, Habitat has built 100 homes in Hobe Sound, Indiantown, Jensen Beach, Port Salerno and Stuart. For more information, call (772) 223-9940 or visit HabitatMartin.org.