Tuesday, April 24, 2012
Habitat for Humanity of Martin County recently received 20 computers from Redemtech to distribute to its partner families.
Habitat for Humanity International has partnered with Redemtech, a company that refurbishes large volumes of PC's from businesses around the world. They have committed to providing refurbished computers for 10,000 Habitat for Humanity partner families. Every computer undergoes a rigorous reconditioning process within their facilities, including complete data-wiping, OEM-level testing, and all the various repairs and upgrades necessary. The computers are then professionally packaged and come standard with genuine software pre-installed and a 90-day limited exchange warranty.
Habitat affiliates are responsible for providing basic computer training and Internet safety to ensure computers are delivered to families who demonstrate a need for a home computer. The families that received these computers were thrilled. Many have children who use them for their schoolwork and were unable to afford a computer. This has alleviated stress of tight schedules and gas mileage for frequent trips to the local library to do projects requiring a computer.
To ensure proper disposal when the computer reaches the end of its life, each recipient family will receive free asset recovery and recycling services from Redemtech. The free service provides assurance to Redemtech's clients donating computers that the highest standards of environmental and social responsibility will be maintained when the computers are retired.
About Redemtech
Redemtech Technology Change Management (TMC) services help organizations increase IT asset utilization and assure regulatory compliance during technology transitions. Redemtech is a wholly owned subsidiary of Micro Electronics, one of the largest privately held technology companies in the United States.
About Habitat for Humanity of Martin County
Habitat for Humanity of Martin County is a not-for-profit organization that works in partnership with God and people everywhere, from all walks of life, to help eliminate substandard housing by building homes for others, revitalizing neighborhoods, and transforming lives. Since its inception in 1986, Habitat for Humanity of Martin County has built 96 homes in Hobe Sound, Indiantown, Jensen Beach, Port Salerno and Stuart.For more information, call (772) 223-9940 or visit HabitatMartin.org.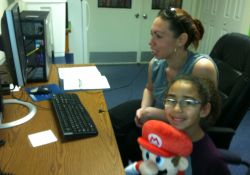 Habitat homeowner and Hobe Sound resident, Amanda Gonzalez is pictured here with her daughter, Amya, 7. Amanda was very grateful and excited for her family to receive a computer from Redemtech. It will be a big help as she continues her education.