Thursday, March 22, 2012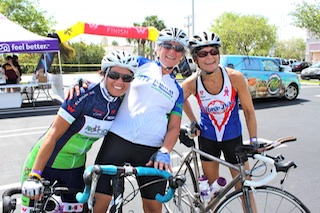 HOBE SOUND, Fla., March 22, 2012 – Area cyclists showed their support for Habitat for Humanity of Martin County's 'Women Build' program at the second annual Power Ride, a cycling poker ride which took place March 11 at Village Bike Shop in Hobe Sound.
This family-friendly event consisted of a100-mile "Power House" ride, 62-mile "Hammer Down" ride, 35-mile "Flying Trusses" ride, and 10-mile "Building Blocks" family fun ride. Prizes were awarded for the top three poker hands: Laura Baldwin received two Trek beach cruisers for first place; Bill Wight had the second place hand and received a new bike rack donated by Suburban Subaru of Stuart; Sonya Houseman had the third place hand and received a cycling enthusiast gift basket.
"The success of our mission depends upon the support of our community," said Mary Jones, director of volunteer services for Habitat for Humanity of Martin County. "Once again, our friends and neighbors stepped up to the challenge. We are so grateful to the participants, sponsors and volunteers who helped us raise $10,000. Those funds will go directly toward the construction of the 2012 Women Build home for the Sanchez family."
Special recognition goes to Suburban Subaru of Stuart, Wilmington Trust, Seacoast National Bank, Village Bike Shop, Gulfstream Business Bank, Trek, Advantage HR, Bullen Insurance Group, Park Pharmacy, Seachange Foundation, Total Quality Services, Big Apple Pizza of Hobe Sound, Big Slice Pizza, Palm City, Duffy's, Dunkin' Donuts, Hobe Sound Deli, McDonald's of Hobe Sound, Peggy's Natural Food, Scooters, Taste Casual Dining, Tausha's Produce, Natalie's Orchid Island Juice, The Fresh Market, Tropical Smoothie, Porter Paints, Schellenberg Chiropractic, Rines IGA Market, Southern Eagle Distributing, Banbury Cross Bakery, Florida Pure Water, Indian River Select Juice, and Winn Dixie. We are also grateful to our 2012 Women Build sponsors, Florida Power & Light Company, and Kramer, Sopko & Levenstein, PA.

To learn more about Women Build volunteer and sponsorship opportunities, visit HabitatMartin.org or call (772) 223-9940.
About Women Build: The 2012 Habitat for Humanity of Martin County Women Build home will be built for the Sanchez family in the new Carter Park community of Indiantown. The family is already contributing to Habitat's sweat equity requirement of 300 volunteer hours and construction of their home is expected to begin soon. They will purchase the home with a no-profit loan and their monthly mortgage payments will be used to build more Habitat homes.
Women Build is a Habitat for Humanity International program that encourages women and girls to have fun and make a difference by building homes and communities. Women crews around the world have built thousands of homes since Women Build's official creation in 1998. Each year, more homes are added as affiliates, donors and sponsors discover the impact of women volunteers and their resources.
About Habitat for Humanity of Martin County: Habitat for Humanity of Martin County is a not-for-profit organization that works in partnership with God and people everywhere, from all walks of life, to help eliminate substandard housing by building homes for others, revitalizing neighborhoods, and transforming lives. Since its inception in 1986, Habitat for Humanity of Martin County has built 96 homes in Hobe Sound, Indiantown, Jensen Beach, Port Salerno and Stuart. For more information, call (772) 223-9940 or visit HabitatMartin.org.
Photo Caption:
The ladies of "Team Trouble," Monica Moore, Janet Krotki, and Laura Baldwin, led the pack for the 62-mile "Hammer Down" ride. Baldwin also had the best poker hand and won two Trek beach cruisers.