Friday, February 3, 2012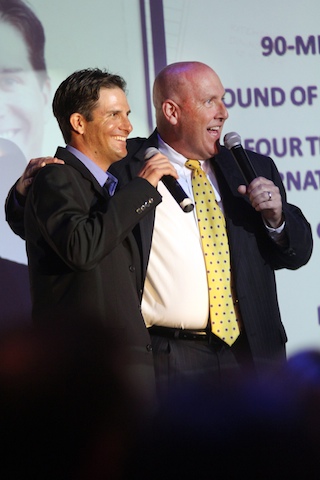 STUART, Fla., Feb. 3, 2012 – Twelve of the Treasure Coast's finest gentlemen donated their time and talent at the second annual Mr. Stud Finder Charity Auction on Jan. 26. The event raised more than $30,000 for Habitat for Humanity of Martin County's 2012 'Women Build.'

Auctioneer Elliot Paul served as master of ceremonies at this fun-filled, lively event at the Lyric's Flagler Center in downtown Stuart. Twelve 'Mr. Stud Finders' presented valuable auction items for bid, valued from $300 to $5,000. The auction featured a cruise with cocktails and hors d' oeuvres aboard Captain Bill Zeller's 42-foot yacht; a day of beauty at Michael Izzolo's Michael Leonard Salon; and a wine tasting courtesy of Jeff Schagrin of Harbour Bay Gourmet. The 2012 lineup also included Martin County Commissioner Patrick Hayes; Piper's Landing Yacht and Country Club tennis pro, Cullen de Windt; Michael Flaugh, landscape architect; Chef Adam Fatigate of Chef's Table; stylist Kenny Kelly of Secrets Hair Salon and Spa; photographer Mitch Kloorfain; Blayne Rosely of Island Beach Resort and Shuckers restaurant; Jermaine Cooper presented a package from Hawk's Nest Golf Course; and a package from Star Bright Event Designs presented by Steven Way.

A total of $15,000 was raised through the main auction. In addition, the crowd pitched in with bids ranging from $100 to $1,000 to raise $7,700 for the foundation of the 2012 Women Build home. Silent auction items, tickets, Women Build merchandise sales and donations also contributed to the event proceeds.

"We're thrilled with the result of this second annual auction. Thanks to the generosity of our 12 philanthropic 'studs,' the generous bidders, sponsors, our volunteers and staff, we're off to a great start funding the construction of a home for the Sanchez family," said Margot Graff, executive director of Habitat for Humanity of Martin County. "We set the bar pretty high last year, but we were able to top it by $10,000 – which is no small feat in this economy. It's truly a testament to the charitable community we live in, and the Habitat mission as well."

Special recognition goes to Elliot Paul & Company; Wilmington Trust; The Stuart News; Goldstein, Schmitt and Wade, PL; Florida Power and Light Company; Kramer, Sopko & Levenstein, PA, Attorneys at Law; 7 Orchids restaurant, and Dawn V. Gilmore Fine Art Photography for sponsoring this event. To learn more about Women Build events, volunteer and sponsorship opportunities, visit HabitatMartin.org or call (772) 223-9940.

About Women Build: The 2012 Habitat for Humanity of Martin County Women Build home will be built for the Sanchez family in the new Carter Park community of Indiantown. The family is already contributing to Habitat's sweat equity requirement of 300 volunteer hours and construction of their home is expected to begin in March. They will purchase the home with a no-profit loan and their monthly mortgage payments will be used to build more Habitat homes.   Women Build is a Habitat for Humanity International program that encourages women and girls to have fun and make a difference by building homes and communities. Women crews around the world have built thousands of homes since Women Build's official creation in 1998. Each year, more homes are added as affiliates, donors and sponsors discover the impact of women volunteers and their resources.  

About Habitat for Humanity of Martin County: Habitat for Humanity of Martin County is a not-for-profit organization that works in partnership with God and people everywhere, from all walks of life, to help eliminate substandard housing by building homes for others, revitalizing neighborhoods, and transforming lives. Since its inception in 1986, Habitat for Humanity of Martin County has built 94 homes in Hobe Sound, Indiantown, Jensen Beach, Port Salerno and Stuart. For more information, call (772) 223-9940 or visit HabitatMartin.org.  

Photo caption: Auctioneer Elliot Paul (right) served as master of ceremonies at the second annual Mr. Stud Finder Charity Auction. He is pictured here with Piper's Landing tennis pro, Cullen de Windt, one of 12 gentlemen who presented items for auction to benefit Habitat for Humanity of Martin County's 2012 'Women Build.' The event raised $30,000 for the charity. Photo courtesy of Mitch Kloorfain/Hometown News. Click here to view more event photos.