Saturday, May 7, 2011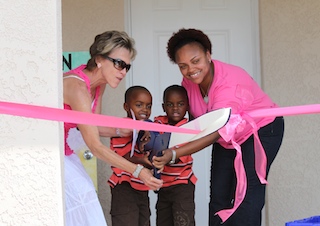 Habitat for Humanity of Martin County and a group of dedicated female volunteers made a dream come true for a single mother and her twin boys – just in time for Mother's Day.
Habitat for Humanity of Martin County (HFHMC) celebrated the construction of its 92nd home at a dedication ceremony and open house on Saturday, May 7 at 8481 S.E. Citrus Way in the Banner Lake community of Hobe Sound. This home is part of Habitat's Women Build program and was constructed exclusively by women.

Shameeka Dixon and her twin sons, Jerbari and Jermari, are the deserving recipients of the home. Dixon hosted an open house reception immediately after the dedication to thank those who worked so hard to help her reach this goal. She contributed more than 300 sweat equity hours working on her home and the homes of others as a requirement for becoming a Habitat homeowner.
Construction of the 2011 Women Build home began in January. Through the donations of funds, materials and volunteer labor, HFHMC was able to build the home and sell it at an affordable price. Dixon purchased it with a no-profit loan and her monthly mortgage payments will be used to build more Habitat homes.

"We're thrilled to present Shameeka, Jerbari and Jermari with the keys to their new home. Shameeka has worked so very hard to build this home, all while taking care of her boys, working a full-time job and pursuing her college degree. This is a very special Mother's Day weekend and we're so blessed to share this momentous occasion with the Dixon Family," Margot Graff, executive director of HFHMC said. "I'd like to thank our Women Build volunteers and donors who generously donated their time, talent and treasure to help make this house a home, as well as the Women Build Guild, Lowe's, Hobe Sound Community Chest, Martin County Board of Commissioners, Martin County Redevelopment Agency, Christ Memorial Chapel of Jupiter Island, Winn Dixie, and the Martin County Master Gardeners."
To support an upcoming build or to learn more about Habitat homeownership, visit HabitatMartin.org or call (772) 223-9940.

About Women Build
Women Build is a Habitat for Humanity International program that encourages women and girls to have fun and make a difference by building homes and communities. Women crews around the world have built thousands of homes since Women Build's official creation in 1998. Each year, hundreds of homes are added as affiliates, donors and sponsors discover the impact of women volunteers and their resources.
About Habitat for Humanity of Martin County
Habitat for Humanity of Martin County is a not-for-profit organization that works in partnership with God and people everywhere, from all walks of life,to help eliminate substandard housing by building homes for others, revitalize neighborhoods, and transform lives. For more information, call (772) 223-9940.
Photo caption: Taryn Kryzda, Martin County administrator, Shameeka Dixon and her twin sons Jerbari and Jermari, cut the ribbon on the Habitat for Humanity of Martin County 2011 Women Build home. The home was built by women throughout Martin County and dedicated to Dixon on May 7, the day before Mother's Day.