Tuesday, January 18, 2011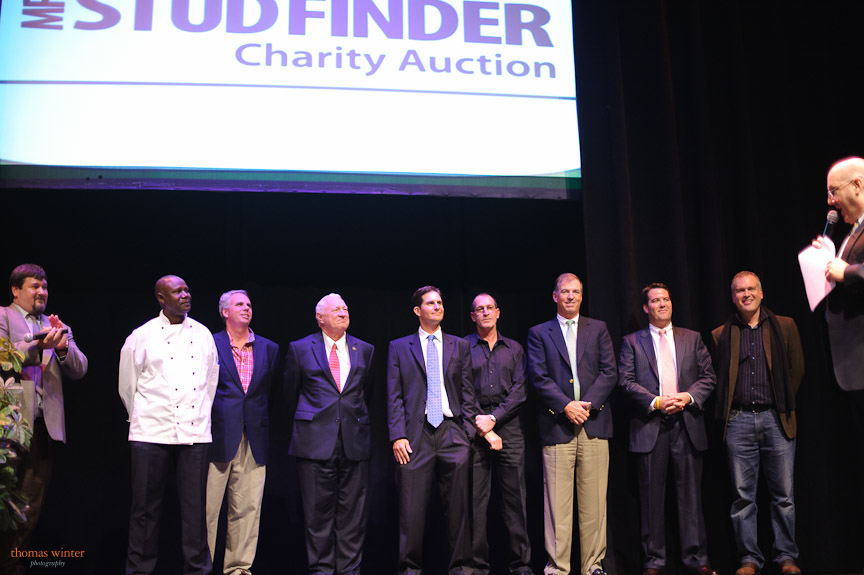 Nine of Martin County's finest gentlemen donated their time and talent at the inaugural Mr. Stud Finder Charity Auction on Jan. 6, raising more than $19,700 for Habitat for Humanity of Martin County's 2011 Women Build.
Auctioneer Elliot Paul served as master of ceremonies at this fun-filled, lively event at the Lyric Theatre in downtown Stuart. Nine 'Mr. Stud Finders' presented valuable auction items for bid, valued from $300 to $1,500. The 2011 lineup included Burt Reynolds (represented by Burt Reynolds Institute for Film and Theatre company manager Pierre Rivard); artist Kevin Hutchinson; county commissioner Patrick Hayes; chef Greg Scott; D Salon owner Robert Ippolito; Piper's Landing tennis pro Cullen de Windt; photographer Thomas Winter; Willoughby Golf Club pro Gerry Knebels; and surfer/realtor Teague Taylor (represented by Blayne Rosely, manager of Island Beach Resort and Shuckers restaurant).
Kevin Hutchinson's oil painting and two-hour lesson package (valued at $1,500) topped the evening's bids at $3,800, purchased by Kate Reynolds Weller. A total of $10,000 was raised through the main auction. In addition, the crowd pitched in with bids ranging from $100 to $1,000 to raise $6,700 for the foundation of the 2011 Women Build home for Shameeka Dixon and her twin boys. Tickets, T-shirt sales and donations also contributed to the event proceeds.
Steve and Stephanie Forsberg opened The Mark Fine Art Gallery and Studio for a VIP cocktail reception prior to the event, featuring beverages by A Picky Gourmet and hors d' oeuvres by Osceola Street Cafe.
"We're thrilled with the results of this inaugural auction and VIP reception. Thanks to the generosity of our nine philanthropic 'studs,' the generous bidders, sponsors, our volunteers and staff, we're off to a great start funding the construction of a home for Shameeka Dixon and her boys," said Margot Graff, executive director of Habitat for Humanity of Martin County. "It's the start of a new tradition for our local affiliate – we're already planning for the second annual Mr. Stud Finder Charity Auction in 2012."
Special recognition goes to Elliot Paul & Company, The Stuart News, The Mark Fine Art Gallery & Studio, A Picky Gourmet, Osceola Street Café and the law offices of Lauri J. Goldstein, P.A. for sponsoring this event.
About Women Build: The 2011 Habitat for Humanity of Martin County Women Build home will be built for Shameeka Dixon and her twin 4-year-old boys in the Hobe Sound community of Banner Lake. Dixon is already contributing to Habitat's sweat equity requirement of 300 volunteer hours and construction of her home will begin in January. She'll purchase the home with a no-profit loan and her monthly mortgage payments will be used to build more Habitat homes. Habitat's plan is to finish construction in May and present the keys to Dixon in time for Mother's Day.
Women Build is a Habitat for Humanity International program that encourages women and girls to have fun and make a difference by building homes and communities. Women crews around the world have built thousands of homes since Women Build's official creation in 1998. Each year, more homes are added as affiliates, donors and sponsors discover the impact of women volunteers and their resources.
About Habitat for Humanity of Martin County: Habitat for Humanity of Martin County is a not-for-profit, volunteer-driven organization that extends the opportunity to purchase simple, decent, affordable homes to local families who would not otherwise have that chance. The three key criteria necessary in order to make homeownership a reality for families include the need for shelter, ability to pay, and willingness to partner with Habitat for Humanity. For more information, call (772) 223-9940 or visit HabitatMartin.org.

Click here to view event photos on Flickr.