Thursday, April 11, 2019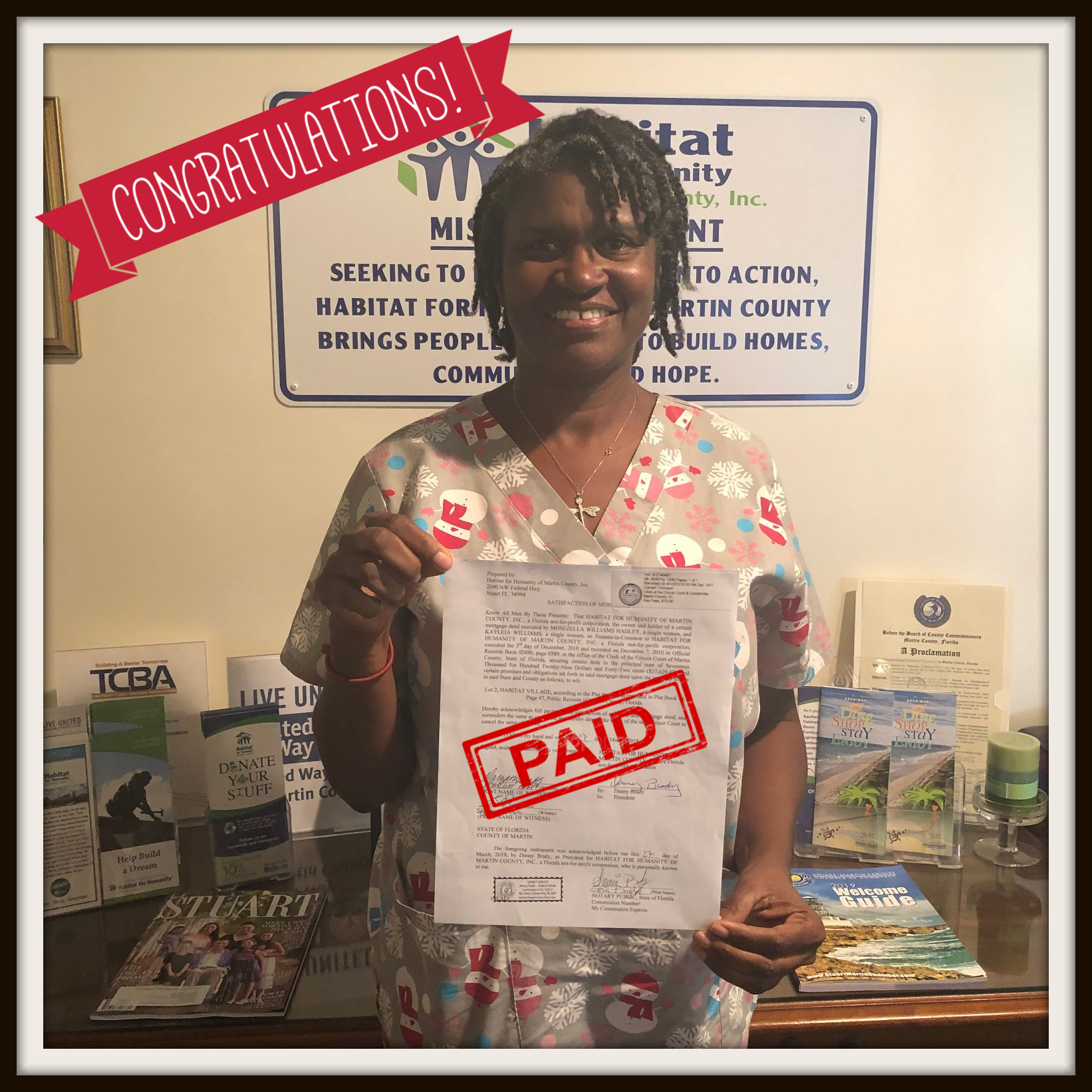 16th Home Mortgage Paid in Full
It was the summer of 1996 and Mosezella Williams held tightly to a list of goals she had written out.
"I've always liked writing," she said. "Someone once told me that successful people write everything down, so that's why I wrote all my goals on a piece of paper. Because I wanted to be successful."
Mosezella attended a community event in Stuart where all kinds of organizations were represented, ready to help community residents.
"I took home the Habitat application but at the time I was making $4.25 an hour at the local Checkers. I was barely making enough to feed my three daughters," she said.
Determined to accomplish all of her goals, Mosezella sought training and became a certified Home Health Aide. She came back to Habitat and attempted to purchase a house again. This time, the extra income was enough to afford a no-interest Habitat mortgage. She purchased her home in 1998 and, after 21 years of faithful monthly mortgage payments, she paid-off her home in March of this year.
"It took about two years for me to go through the whole process. I remember that two volunteers came to do a home visit. I remember taking homebuyer classes. Those classes were great!," Mosezella said. "You really don't know anything about buying a house, let alone how to maintain it, so those classes were especially helpful. Purchasing that home, it changed everything for me. Every other goal I had on my list, I was able to accomplish. I still have the list, too, as a reminder to remain grateful to God for everything He has done for me."
Mosezella recalls overhearing her daughter's friends asking "Is your family rich? You live in such a big, pretty house." Mosezella's oldest daughter served in the United States Air Force for three years. Her other two daughters work as cosmetologists. Together, they have given Mosezella six grandsons and one granddaughter.
Her most favorite memory of being in her home was building it with her own two hands. "Not everyone can say they helped build their home but I can," she said. "I was there helping to build it, helping to paint it."
In 2009, Mosezella accomplished another goal on her list, graduating with honors from Indian River State College with an Associate's degree in Human Services. Then, in 2017, she checked another goal off by becoming an author.
"It all started as a way to encourage my eldest grandson to love to read and, before I knew it, it turned into this cool project together and I decided to publish the book," Mosezella said.
Dorrance Publishing caught wind of the book and published "Nala Sky: My Siberian Husky" co-authored by Mosezella and her grandson.
"Overall my Habitat experience has just been great. It has been the perfect amount of hand-up. It has opened up so many opportunities in my life and I am so grateful for my home," she said. "Thank you."