Thursday, December 6, 2018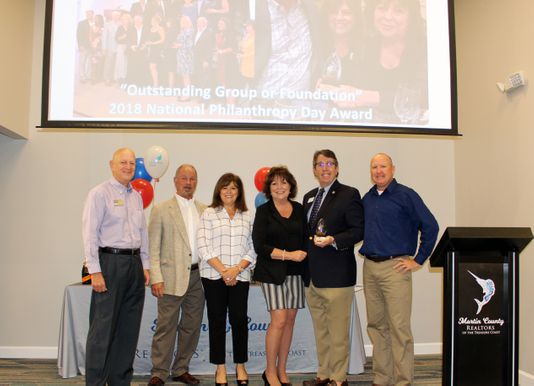 Dennis Fadden, left, Dan Brady, Sherri Westervelt, Margot Graff, John Gonzalez, and Michael Readling celebrate the Martin County Realtors® of the Treasure Coast receiving the Outstanding Group National Philanthropy Day Award.(Photo: Provided by Martin County Habitat for Humanity)
Surprise Habitat nomination nets Martin Realtors big recognition at National Philanthropy Day
STUART — While well-known for its requirement of sweat equity from its homeowners in the house-construction process, Habitat for Humanity of Martin County recently put "sweet equity" into a discrete effort to honor one of its key donors. And this investment paid dividends.
The Treasure Coast chapter of the Association of Fundraising Professionals awarded the Outstanding Group National Philanthropy Day Award to the Martin County Realtors® of the Treasure Coast. The professional organization composed of nearly 1,000 Realtors® and affiliates supports Habitat as its charity of choice.
In spring, the Martin County Realtors®  raised a record $27,000 for Habitat at its annual golf tournament and more than $100,000 on behalf of Habitat over recent years.
"This was really a wonderful surprise," said John Gonzalez, president of Martin County Realtors® and licensed broker and owner of Engel & Völkers Stuart. "We didn't even learn we were nominated for anything until the last minute. And then to win — with so many other distinguished philanthropists and generous individuals on hand — was outstanding. We certainly never expected it, but we're very appreciative."
Margot Graff, executive director of Habitat for Humanity of Martin County, nominated Martin County Realtors® for the award without notifying the organization. Days before the awards banquet, Graff sprung a last-minute invite on Martin County Realtors® representatives and hoped for the best.
The Association of Fundraising Professionals keeps the identities of the award winners mum until the moment of announcement.
"They're so deserving," said Graff. "The Martin County Realtors® of the Treasure Coast have poured their hearts into helping us, dedicating incredible time and effort toward making their golf tournament — which features PGA legend Chi-Chi Rodriguez — a huge hit on our behalf. The monies they've raised go a long way for helping Habitat families, and we wanted to give them some much-deserved recognition in return."
In addition to citing the corporate support for Habitat, Graff also emphasized the generosity of individual Realtors® and the commitment of manpower and volunteer time.
"In the earlier days, before site regulations prevented the manual flying of trusses by volunteers, I've seen 15 to 20 Realtors® lift these incredibly heavy wooden trusses across the lot, raise them to some companions on the concrete block wall and secure them in place," said Graff. "They did time and again — for scores of homes."
Gonzalez says the charity's core mission — lifting local families in need out of difficult financial circumstances through homeownership — resonates deeply with Realtors.®
"Our members love Habitat for Humanity for so many reasons," he said. "It's a great organization that's well run, lean in its operations, very effective in its efforts and is steadily lifting families — and generations — out of poverty and into stability through the transformative power of homeownership."
Martin County Realtors® of the Treasure Coast's annual golf tournament raised $27,071 to benefit Habitat for Humanity of Martin County.
(Photo: Provided by Martin County Habitat for Humanity)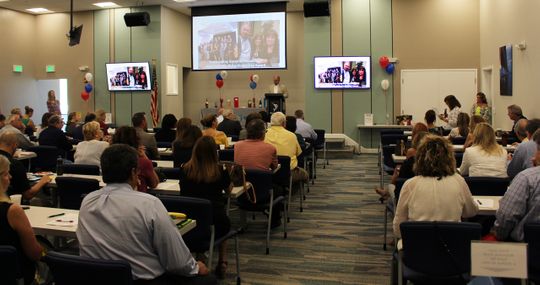 At its weekly marketing meeting, Martin County Realtors® of the Treasure Coast share the total money raised through the organization's generosity and volunteerism supporting Habitat for Humanity of Martin County.
(Photo: Provided by Martin County Habitat for Humanity)