Wednesday, September 7, 2016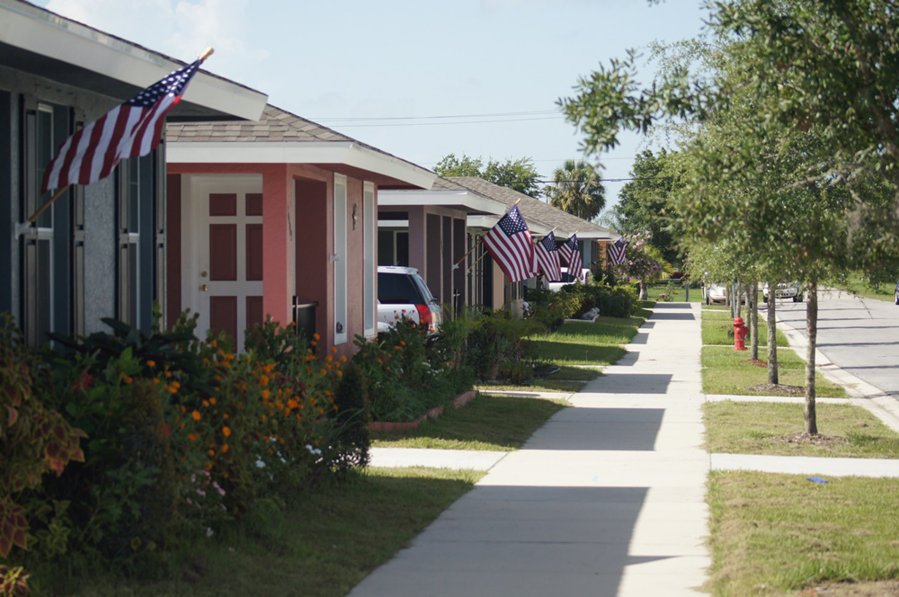 Gil Smart: American dream comes true in Indiantown, thanks to Habitat for Humanity
When Tameka Hall and her family moved into a brightly colored home in Indiantown last month, she tried to articulate what it felt like to finally own a place of her own.
"Thank you for using your mind, heart and soul to help build a foundation that is strong and stable for my family and me," Hall wrote in a letter that was read aloud during an Aug. 20 dedication ceremony hosted by Habitat for Humanity Martin County, whose volunteers built the house. "I never thought I could become a homeowner, but with all of your help and God's grace, my dream became true."
Turning that dream into reality is Habitat's specialty. And in Martin County, where affordable housing is in such short supply, the nonprofit's work might be more vital than ever.
In Indiantown's Carter Park neighborhood, four Habitat homes were dedicated in August. Sixteen Habitat-built homes now line Southwest 173rd Drive, adjacent to the Boys & Girls Club. Work on new homes is expected to be done until at least December. By next June, Habitat hopes to dedicate four more houses, which would put the proposed 40-home development at the halfway mark.
Habitat is building elsewhere, too. Executive Director Margot Graff said the charity builds eight to 10 homes per year around Martin County.
Demand is intense. Last year, the program had 492 applicants.
Habitat homes aren't given away. Families need to come up with an escrow down payment and must be able to afford a monthly mortgage. They must demonstrate need, must be living in substandard housing and be willing to invest 300 hours of "sweat equity" in their home.
But many also need to learn what it means to be a homeowner. That means classes in budgeting, shopping, even how to be a good neighbor.
"Most of the time, there's no home ownership in the whole family," Graff said. "By the time they move into the homes, they've learned a lot of skills."
It's the beginning of a whole new life.
And if you have long owned your own home, it might be hard to grasp how daunting this can be — and how much it can mean — to someone like Tameka Hall.
Habitat isn't, and could never be, the "answer" to the affordable housing crunch in Martin County. In fact, Graff took me aback when she said that "affordable housing doesn't work for the poor." What she meant, she explained, was that no matter how low the price point, it's nearly impossible for people with poor to no credit to get a loan in the first place, let alone afford the principal and interest.
Habitat is able to keep mortgage payments on the homes down via no-interest loans.
And that's good not just for the homeowners themselves, but the entire community.
Mike Readling, Habitat's Director of Resource Development, said Carter Park has had a "halo effect" in Indiantown. Several nearby homes in disrepair have been fixed up and repainted in the wake of Habitat's development.
Often, the rap on affordable housing is that it might drag down nearby property values. Here's a case where Habitat's homes might have had the opposite effect, Readling said.
And there's more to come. In addition to more homes in Carter Park, Habitat wants to begin work on another development, up to 20 homes in the Pettway area of Hobe Sound.
"I need to raise $5 million this year," said Graff, whose annual budget is around $3 million.
It's a lofty goal. But then again, it's a lofty mission.
Here's hoping both can be fulfilled, this year and beyond.