Thursday, March 31, 2016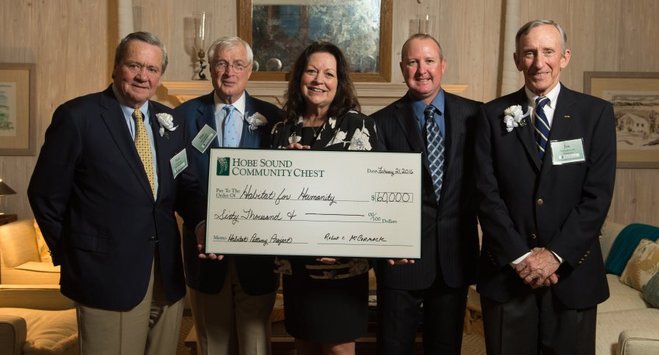 HOBIE HILER PHOTOGRAPHY Robert Simpkins, HSCC Vice President; Robert McCormack, HSCC President; Margot Graff, Habitat for Humanity Executive Director; Mike Readling, Habitat Director of Development; and Joseph Frelinghuysen, HSCC Treasurer
By Mike Reading
Hobe Sound Community Chest is donating nearly two acres of vacant land in the Pettway area of Hobe Sound to Habitat for Humanity of Martin County.
Habitat plans to build up to 20 new homes in the coming years on the property.
Hobe Sound Community Chest has a long history partnering with Habitat to provide affordable housing. The two organizations have worked together to build 26 new homes in the Banner Lake neighborhood in Hobe Sound since 1999.
"This project not only expands the affordable housing footprint in our community, it creates a brand new neighborhood and gives our families more options on where they choose to raise their families," said Robert Simpkins, Vice President of the Community Chest board.
For Habitat, the project is a continuation of the organization's move from single homebuilder to developer.
Habitat for Humanity has built 121 new homes in Martin County over the past 30 years and performed minor rehabs on 193.
Visit HobeSoundcommunitychest.org or HabitatMartin.org.
The Pettway project follows in the footsteps of Carter Park, Habitat for Humanity's 40-home neighborhood in Indiantown. Carter Park will be almost halfway complete by the end of June.
"Six years ago Carter Park was a wooded lot, much like this property off Pettway," said Margot Graff, Executive Director of Habitat for Humanity of Martin County. "We look forward to duplicating the success we have seen in Indiantown here in Hobe Sound. The difference in that community now as compared to four or five years ago is noticeable and wonderful."