Honor a friend or loved one by making a donation to Habitat for Humanity of Martin County in their name. The recipient will be notified of your generosity by a beautiful Habitat for Humanity greeting card.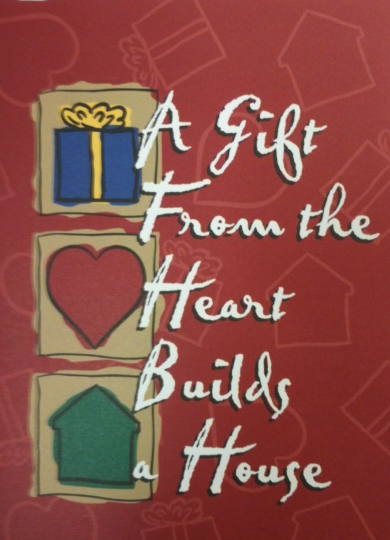 Your donation makes a world of difference
Gifts from the Heart contributions provide building materials, supplies and support for families who are in need of decent, affordable homes.

Your tax-deductible Gift from the Heart donation will touch the lives and hearts of families throughout Martin County.

The perfect gift
A Gift from the Heart donation is appropriate for any recipient or occasion and is an ideal last-minute gift. Gift from the Heart greeting cards can be delivered to your recipients via e-mail or postal mail.

Gifts from the Heart donations can be made:
In honor of someone special
In memory of a loved one
To celebrate special occasions
As a holiday gift
Click Here to Send a

Gift from the Heart

today!
When you make your donation, you will be able to choose the occasion and recipient the donation is honoring.
Greeting cards can be sent via e-mail or postal mail.
A $10 minimum donation per card is requested.